Tootsie Watkins shares experiences and recipes from lifetime at Pawleys Island
A collage-style painting titled "Pawleys as I Remember," featured on the cover of Tootsie Watkins' latest cookbook, represents the fondest memories of her life spanning more than nine decades at Pawleys Island.
Tootsie's rendering includes historic landmarks like the Tip Top Inn, the Cassena Inn, and the Pawleys Island Chapel, as well as memorable figures like an African American fisherman known as Dirty Johnson and the legendary Gray Man ghost that warns of impending hurricanes. She created the painting in 1989 as a time capsule of sorts.
"Every time I would go on the island, storms had ravaged the island and people were tearing things out and throwing them away," Tootsie said. "One day, they were tearing down part of what was left of the Tip Top Inn, and I came home and said to myself, 'If I don't paint it, I'll forget it.'"
She has lived on and off the island her entire life, working at the Tip Top Inn as a waitress for 30 years, raising a family there, owning a small restaurant/liquor store called the Party Shop, and catering Lowcountry cuisine. Her cookbook, titled "Tootsie's Favorites: Pawleys Island Cookin'," has been published five times starting in 1979. The fifth edition, published in 2023, includes dozens of Lowcountry recipes, as well as some of Tootsie's artwork.
"It is a happy little book," Tootsie said. "The recipes make me want to go start cooking something."
She recently signed copies of her cookbook for the public at The Original Hammock Shop on the Pawleys mainland and the Old Town Hall on the island. Accompanying her was a good friend and fellow artist, Vida Miller, owner of Gray Man Gallery in Pawleys Island for 30 years. She describes Tootsie as an icon and a legend in the area.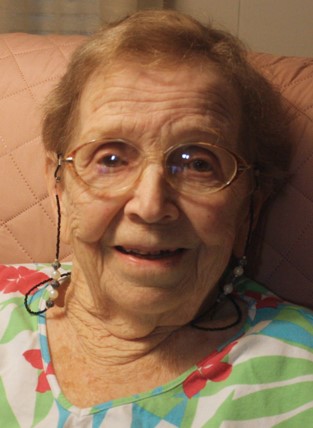 "Tootsie has made the best of every situation and became a renowned caterer and entrepreneur," Miller said. "She is the epitome of the 'cheerful giver' and 'let your light shine.'" She is one of those rare people who lives life to the fullest, loves unconditionally and has been a steady guiding hand for this community for decades."
Tootsie's family moved to Pawleys Island in 1935, just after the Great Depression. She is the fourth youngest child of John and Annie Altman's 11 children. Life at Pawleys during that time was not an easy one, but it was a wonderful one, she said.
When she was a child, Tootsie attended a two-room schoolhouse for grades 2 to 7, located on the Pawleys mainland at the corner of U.S. Highway 17 and Waverly Road, where Pawleys Island Bakery now stands. The school building was moved, she said, and is now part of Christ the King Church, next to True Blue Nursery on Highway 17.
"It was a fine school to go to because you only had two or three people in a class," she said. "It was like a little private school, and everybody got the same education because you heard everybody's lessons."
She said it was a way of life they all knew and loved, even though she was a senior in Winyah High School before her family had electricity and lights in her home.
"We studied by kerosene lamp, then Coleman came out with a gas lantern, so that gave us brighter light," Tootsie said. "It was best to get our homework done in the daytime, so that was the first thing we did when we got home from school before doing our chores."
At that time, she said there were five families living on the island year-round: the Wingates, the Weavers, the Lattas, the Marlows, and the Canons. She has fond memories of fishing, crabbing, and gathering shrimp and oysters in the creek at Pawleys. Unfortunately, these activities are limited today to certain times of year on Pawleys Island, she said.
"At that time, you didn't have a season when you could get clams and oysters out of our creeks," Tootsie said. "So, you could play in the creek every day and you didn't have any problems."
She also recalls visiting McKenzie Beach, which was a Black beach near Pawleys in the days of segregation.
"Segregation was not in our vocabulary because you didn't worry about that," Tootsie said. "You knew everybody, you played with them and talked to them, and you were friends with them and there was no problem."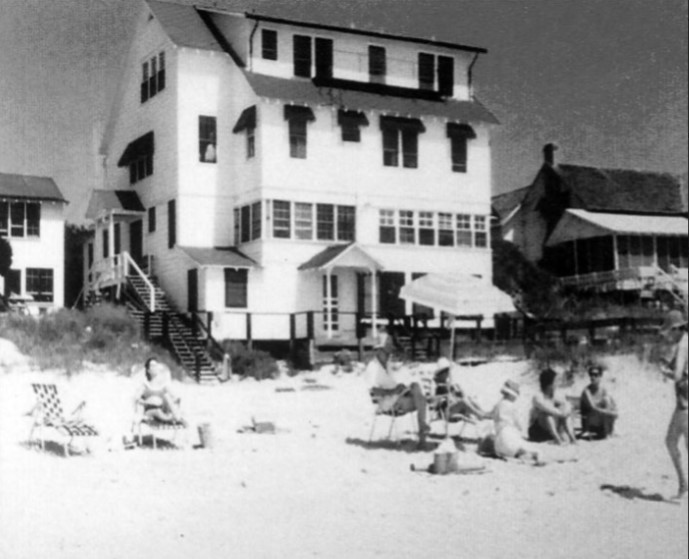 When Tootsie was a teenager, she started working as a waitress at the Tip Top Inn, which was opened in 1940 by Lorraine "Mammy" Dingle. Working there for 30 summers, she said that the inn catered to families who came to the beach for vacation.
"Mammy was a firm believer that if you came to the beach for vacation, you should enjoy the beach, or you could swim, fish and crab in the creek," she said. "Families liked it so well that they came for 20 to 30 years."
She recalls watching Dirty Johnson, who is memorialized in her painting on front of her cookbook, daily throwing a cast net off Mammy Dingle's dock.
"At lunchtime, we would go watch him throw his cast net in the creek and catch shrimp," Tootsie said. "Back then, there wasn't too much traffic in the creek, so the little creek shrimp would come way up into the creek."
She married Newt Watkins in 1948 and raised her own family at Pawleys. Along with their three children, Bucky, Glenn, and Lynne, they fostered a host of others who needed a hot meal and a place to stay. Tootsie has four grandchildren and six great-grandchildren.
Bucky Watkins, who is now the owner of The Big Tuna restaurant in historic Georgetown, said he enjoyed growing up in the Pawleys area in the 1950s and 60s, when fishing and hunting was his whole reason for living.
"We loved to fish in the creek and hunt in the woods all around and we did that a lot," he said. "The Litchfield, True Blue and Hagley areas were not developed yet, so there were some great places to hunt."
He said other than that, most people he knew worked odd jobs after doing their homework on school days and on the weekends. Among other things, he had a newspaper delivery route from age 10-17.
"I had a paper route and rode my bike on Highway 17 to Frank Marlow's store (where Frank's restaurant is today) and from one end of the island to other," Bucky Watkins said. "I delivered to all of the old inns, the Tip Top Inn, the Cassena Inn, and Sea View Inn."
He also bussed tables, washed dishes, and helped people with their luggage as they arrived and departed on Saturdays at the Tip Top Inn. He said when he and his best friend Roy Drayton worked there, they earned breakfast and tips.
"At 5 p.m., we had to carry a little cooler of ice with glasses around the inn and everybody would fix a drink," he said. "Then, they would go have supper at 6 p.m."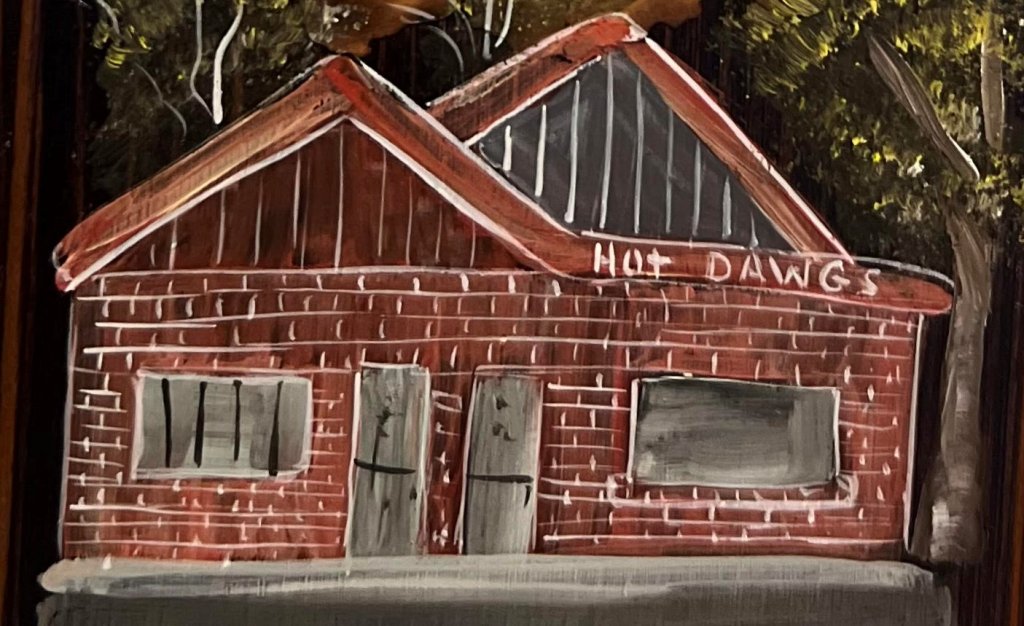 After Hurricane Hazel destroyed their home on the island Tootsie and her husband, Newt, moved the family to Highway 17 next door to her mother and brothers in 1954 on property where Christ the King Church stands today. Later, they opened an ABC store, and a small restaurant called The Party Shop, renowned for the best hotdogs, barbecue sandwiches and conversation to be found at Pawleys.
"We had the coldest beer in Pawleys island, so when everybody left work in the afternoon they stopped there," Tootsie said. "It was the only place around where you could buy a meal since there were no fast-food restaurants. You could bring your kids, the dog, your wife, and the whole family."
While running the shop, Tootsie began catering on the side. Eventually, she and Newt decided to sell their businesses and "retire." That is when Tootsie concentrated on her catering business, as well as serving as the kitchen manager at Litchfield Country Club.
Miller said it didn't take long for word to spread that Tootsie was the best cook around and soon her popular catering business was booming.
"With all of her experience, she built a reputation as a caterer with a flair for traditional Lowcountry food," Miller said. "Her charm, quick wit, generosity and culinary skills have endeared her to generations of families."
Lee Brockington, a local historian, and longtime resident of the Pawleys area, said Tootsie catered her wedding after she recommended that Lee accept a date with Bill Shehan, who turned out to be the love of her life.
"I met her at Marlow's Store, talking to her old friend Faye Marlow up at the cash register," Brockington said. "They started talking about Bill Shehan and Tootsie told me he was 'a very good man.'
"She recommended that I accept his offer of a date, especially after Faye had done all the matchmaking. It worked and later when we were planning our wedding she said, 'You better hire me to cater the wedding!' So, I did."
Lynne Amrozowicz has been cooking alongside her mother, Tootsie, for many years. She said that although they are tasty, the recipes in Tootsie's cookbook are basic and require common ingredients that can be found in most kitchen pantries.
"My favorites are crab casserole and shrimp creole," she said. "I pick crabs for mom and freeze it in milk for use later and peel her shrimp. I get most of the prep done for her, but she still has to stir the pots and taste."
Amrozowicz said she and Tootsie enjoy their "kitchen time."
"We laugh and cut up," she said. "She definitely keeps me on my toes and I love every minute of it."
To order a copy of "Tootsie's Favorites: Pawleys Island Cookin', send an email to this address: tootsiesfavorites@gmail.com.
By Clayton Stairs / tourism manager for the Georgetown County Chamber of Commerce