Pawleys Island reels in anglers from far and wide
Whether crossing the North or South Causeways, scanning the scenic marsh along the creek, or walking on the pristine beach, it becomes obvious fairly quickly that fishing is a popular pastime on Pawleys Island.
At any given time, dozens of people can be seen fishing at many of these locations while enjoying the beautiful scenery and sunshine that the island has to offer. Some do it for sport, but some are working to bring home dinner.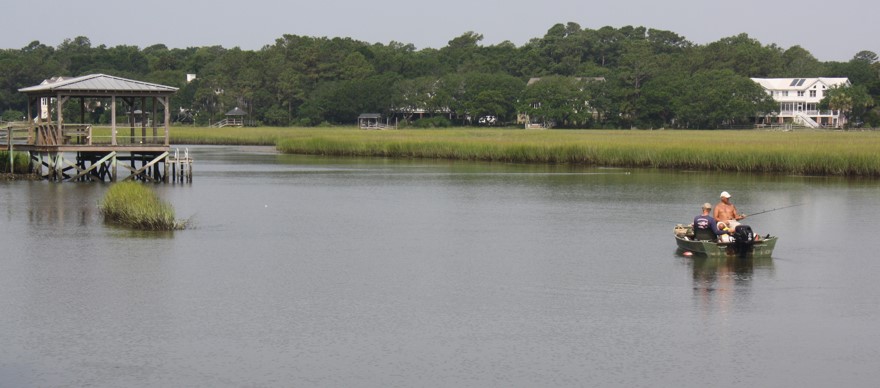 "Pawleys Island is a fishing destination fit for any beginner or experienced angler," said Daniel O'Hara, town clerk of Pawleys Island. "There are also many locations to fish from that are open to the public, and we have several boat landings and kayak launches for people who want to explore the marsh for fish."
Greg Williams, who lives a few miles up the coast in Surfside Beach, South Carolina, said he loves fishing on Pawleys Island, especially on the North Causeway bridge, where he can often be found.
"It's the whole atmosphere here and the convenience of just pulling my truck up here and going to the bridge," he said. "The other anglers you talk to on the bridge are always real nice. I just like this whole area, the whole Pawleys Island deal."
Williams said he mostly targets flounder, but he knows people catch other species of fish from the bridge.
"I've been told at night, you can catch a lot of ladyfish, sheepshead, and redfish," he said.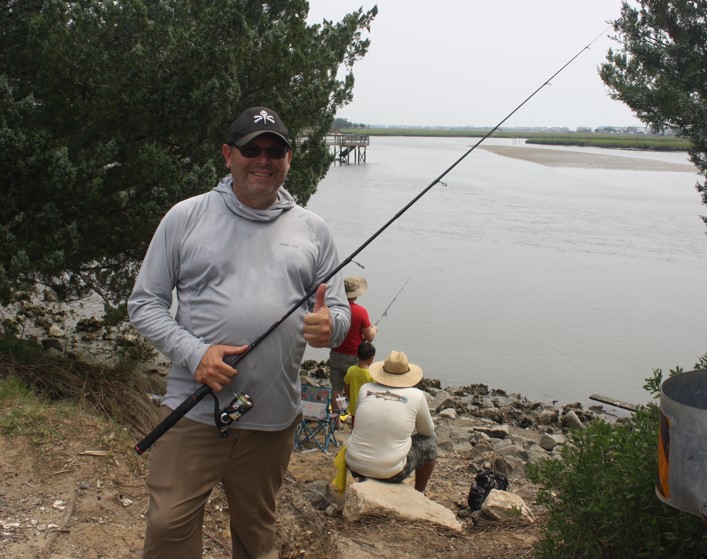 His 12-year-old son, Pierce Williams, has a Youtube channel called "Fishing with Pierce" and he has posted several videos of himself fishing off the North Causeway bridge, as well as the north end of the island near a jetty.
"He loves fishing on Pawleys Island, too," Williams said. "It's nice. It really is."
Many times, the flounder that Williams catches, he said, are too small to keep, so he throws them back.
"But, you know, man, it ain't all about catching the fish," Williams said. "It's about the comradery."
His friend, David Hartwell from Manning, South Carolina, was having more luck with catching bigger flounder from the bridge. He said he caught three "keeper" flounders and threw six back that day.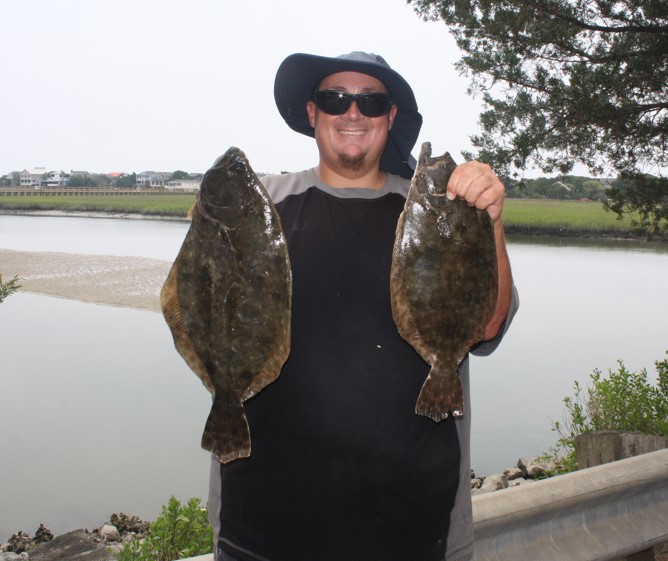 "I've caught some big ones here," Hartwell said. "I caught one that was about eight pounds here about a week ago."
He has a different philosophy than Williams about fishing. He said he enjoys coming to Pawleys Island, but he is serious about angling and does it about 14 hours at a time.
"I don't come here to relax and enjoy the day," Hartwell said. "I come here just to catch fish."
Hartwell said he comes to Pawleys Island because it is less crowded than other places he has fished in South Carolina, like Shem Creek in Charleston and Apache Pier in Myrtle Beach.
"Here, it is much quieter than a lot of those places," he said. "This area has also preserved its natural beauty, and it is a nice balance of nature and modern living."
Carlos Perez travels from Myrtle Beach, South Carolina, about 30 miles from Pawleys, to fish. He, too, can often be found on the North Causeway Bridge.
"Everybody is friendly," Perez said. "Everybody gets along, and everybody helps each other here."
On the South Causeway Bridge, there are usually less people fishing, but Louis Day from Macon, Georgia, who was fishing there with his 10-year-old son, Lennox, said they were having a good time.
"It's peaceful, and we enjoy the quiet while we're fishing," Louis Day said.
Young Lennox said he was hoping to catch trout, redfish, and grouper. "We want to catch," he said, "whatever will get on our line."
Louis Day said they were on vacation with his girlfriend's family who have been coming to Pawleys Island for nearly 30 years.
"Next year, we're hoping to get a house with a dock on the creek, so we have more opportunities to fish," he said.
Another popular way to catch fish on Pawleys Island is surf fishing, which involves casting a line into the ocean from the beach. Town ordinances prohibit targeting sharks when surf fishing from May 1 to Sept. 30, O'Hara said.
"Surf fishing on the Island is very popular, and you can catch many of the same fishes available in the creek as you can in the surf," he said. "Plus, you have a strong chance of catching larger fish from the ocean."
Kyle Rogers and Cali Gibson, on vacation from High Point, North Carolina, were recently surf fishing near the north end of the island.
"I just like it because it's relaxing and you get to enjoy the beach," Rogers said. "It can be a challenge for sure. I guess it depends on the day and whether the fish are hungry."
Gibson stated, "It's a good way to enjoy the sun and the breeze and just sit back and relax."
"But also, when you hear that fishing reel go spinning," she said, "you know you caught something, and it makes all of the waiting worthwhile."
And, at the end of a great day fishing, that's what matters!
For information about fishing regulations in South Carolina, click here. For state size and catch limits, click here.
By Clayton Stairs / tourism manager for the Georgetown County Chamber of Commerce