U.S. News & World Report puts Pawleys at No. 4 in South Carolina
U.S. News & World Report has ranked Pawleys Island as one of the top beaches in South Carolina.
In its ranking of the 12 best South Carolina beaches, the venerable publication included Pawleys Island at No. 4.
Renowned for its casual charm and natural beauty, savvy travelers have long flocked to Pawleys Island. The island, in fact, traces its beginnings as a vacation destination to the 1700s when wealthy rice planters moved their families to the coast in the summer months. Today, Pawleys is a year-round destination of people from all walks of life. It's a refuge for vacationers in search of a trip that provides relaxation, natural beauty, and an escape from the frantic pace of modern life.
In its report, U.S. News wrote, "One of the oldest resort areas on the East Coast, Pawleys Island is still largely devoid of commercialism. The area is remote in feel, offering up a short list of things to enjoy aside from its white sand beach and picturesque Pawleys Island Creek."
Reasons for the Pawleys' appeal extends far beyond its highly ranked pristine beach, casual charm and laid-back vibe. Pawleys is home to an abundance of eco-activities, including crabbing, fishing and kayaking, and just across the causeway are some of America's premier golf courses and an array of restaurants that are a foodie's dream.
Pawleys Island is located in Georgetown County in an area known as South Carolina's Hammock Coast. Two other Hammock Coast beach communities also made the U.S. News & World Report best-of list: Huntington Beach State Park at No. 5 and Litchfield Beach at No. 9.
"It's such a thrill to once again have Pawleys Island being recognized as one of the best beach destinations," said Mark A. Stevens, director of tourism development for the Georgetown County Chamber of Commerce. "We are certainly pleased to have Pawleys in the Top 5 of U.S. News & World Report's rankings of South Carolina beaches."
Pawleys Island is often singled out as a top beach. In 2021, readers of Garden & Gun magazine named it the second best beach town in the South, and Southern Living named Pawleys Island one of the South's Best Beach Towns in 2019, saying, "Atlantic-facing Pawleys Island isn't far from such popular Grand Strand destinations as Myrtle Beach and Murrells Inlet, but it's a quieter getaway, known for cypress cottages and those famous hammocks. There's no shortage of good food and drink, not to mention water recreation of every description. Beautiful Brookgreen Gardens is just a 10-minute drive away."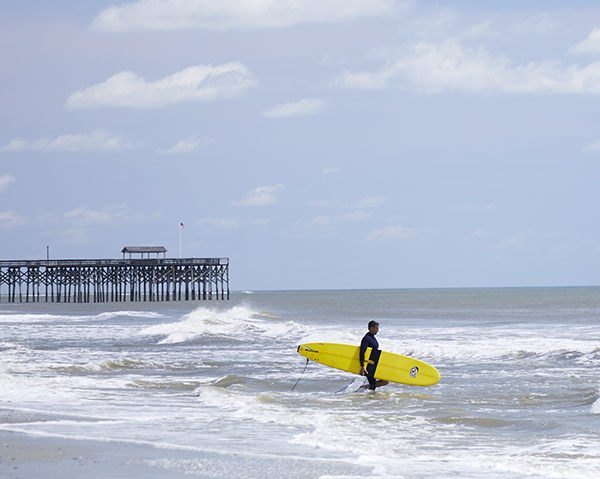 Located to the south of Myrtle Beach and just north of Charleston, Pawleys Island boasts three miles of pristine beach. Less than one square mile in size, Pawleys is home to a range of rental properties that offer vacationers everything from large oceanfront homes that are perfect for multi-generational travel to a pair of historic inns on an island that is devoid of commercial properties.
For many, the heart of a trip to Pawleys Island is the allure of the Atlantic Ocean and taking a step back in time with a stay at either the Sea View Inn, built in 1937, or the Pelican Inn, which opened in 1858.
If a condo is more to your liking, the island is home to the Pawleys Pier Village, which offers exclusive access to the island's only fishing pier. Of course, Pawleys also has a bevy of beach homes, from rustic and sea-worn to elegant and Carolina pure. Pawleys Island real estate is varied, offering something for everyone seeking the perfect vacation spot.