Be it seashells or sharks' teeth, it's the search that brings many to Pawleys' shore
Sunrise on Pawleys Island with its vibrant, beautiful colors, not only brings shorebirds to the beach in search of their breakfast; it also brings dozens of people in search of treasures washed up by the waves.
One place these early beachcombers gather is the north end of the island. Their treasures include shells, coral, sharks' teeth, driftwood, and more.
Shelby Donnelly, who lives in Bowie, Maryland, but also stays with her father in Greenville, South Carolina, was recently combing the beach on the north end with her friend, Mandy Milam. In search of the Pawleys Shell, she said she enjoys the thrill of finding something rare.
"It's just the challenge," she said. "Some people can't find them, and some people find bunches of them."
The Pawleys Shell, with its distinct markings, is from the Imperial Venus Clam and although it can be found in other areas, it is found predominately on Pawleys Island and, thus, has earned – locally, at least – the moniker of the Pawleys Shell.
Donnelly said she also enjoys finding larger treasures, including conch shells.
Deb Slack, who lives on the Pawleys Island mainland, moved here with her husband, Chuck, from Antioch, Illinois, about a year and a half ago. She said she has found the Pawleys Shell before, but it's not one of her favorites now.
"I have a collection of about 10 good ones," she said. "I have other ones that are broken and beaten up."
Slack usually collects seashells for decoration and art projects but also keeps many of them in crystal vases.
"I like these little flat white shells called angel wings and these round black shells called shark eyes," she said. "I clean them up and display them in and around my house, mostly. I also have a saga palm in my garden near my front door and I fill the area around that with all kinds of shells."
Scott and Dawn Nihill, moved from Ansonia, Connecticut, to Georgetown, South Carolina, about a year ago. On a recent morning, the Nihills and family members had made the 13-mile drive from Georgetown to Pawleys Island and immediately started a search — not for shells but for sharks' teeth.
"It's a weird thing we do," Scott Nihill said as he pulled out a handful of sharks' teeth. "It is a hobby that keeps us busy."
He explained that he and his wife started their quest for sharks' teeth a few years ago when their oldest son, Ryan, came down for college at Coastal Carolina University.
"One day, we were sitting on the beach, and we saw this young girl and her grandmother," Scott Nihill said. "They would walk a few feet and then bend down and spend a few minutes staring into the sand."
The curiosity got the best of him, so he asked them what they were up to.
"When the girl said they were looking for sharks' teeth, I thought she was pulling my leg, you know," Scott Nihill said. "But then she stuck out her hand and showed them to me."
Since then, the Nihills and some of their relatives have spent most of their time on the beach searching for the teeth, which can be found in all sizes. Dawn Nihill said she and her husband do compete for size of the teeth, and, currently, she is in first place with one about two inches long.
Searches can take a long time – or very little time, at all, such as a time about two years ago when his parents came with them to Pawleys on vacation.
"We were playing Bocce Ball and my mother just happened to walk up where the dunes are and all the sudden, she bends down and finds a shark's tooth the size of a 50-cent piece," he said. "I said man, we've been looking for years, and I never found one like that."
Todd and Amanda Melton of Oakboro, North Carolina, were in search of seaside treasures with their daughters in the same area. Laughing and comparing their finds, they were collecting shells, pieces of coral and small burrowing crabs.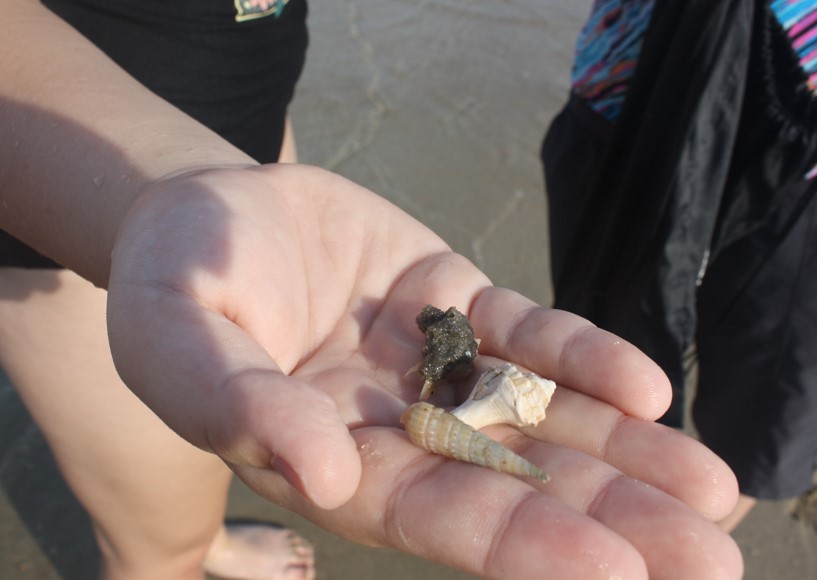 "We love collecting things from the beach and Pawleys Island is nice, quiet and peaceful," Todd Melton said.
Amanda Milton said she was having a great time exploring the sand at the water's edge.
"You've definitely got the prettiest shells around," she said.
By Clayton Stairs / tourism manager for the Georgetown County Chamber of Commerce