Sharing Family Time On Pawleys Time
This coastal South Carolina destination continues to be a family favorite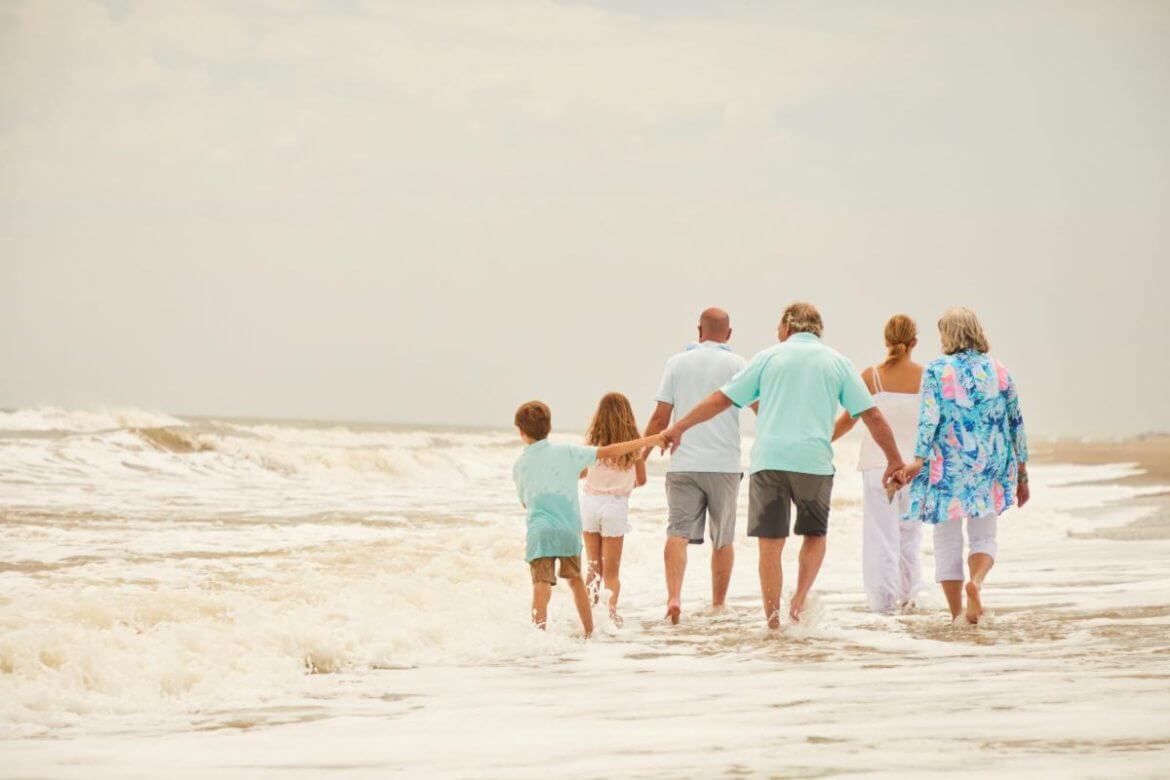 PAWLEYS ISLAND, South Carolina, –June 2021 – It's one of the oldest resorts on the east coast and yet each visit is a renewal. Pawleys Island, South Carolina, has welcomed generations of travelers, originally as a getaway location for estate owners' families escaping life on the inland plantations for a respite on the shore. Some things never change and thankfully Pawleys is still that relaxing, one-of-a-kind coastal destination that offers refuge, creates memories and beckons families to return again and again.
Today, families still love spending time together on this beautiful barrier island. It's central to South Carolina's Hammock Coast, just 70 miles north of Charleston and 25 miles south of Myrtle Beach, yet it seems to take visitors to a world apart. The natural Atlantic beachfront and bountiful inland waters are dotted with beach houses and historic inns, many reminiscent of days gone by. These one-of-kind accommodations known as "arrogantly shabby" have a character all their own. The Sea View Inn (414 Myrtle Avenue, Pawleys Island, South Carolina 29585; 843-237-4253), with its 20 private guest rooms, and the eight-bedroom Pelican Inn (506 Myrtle Avenue, Pawleys Island, South Carolina 29585; 843-325-7522) typically open each spring and host guests through Labor Day.
Family time here consists of days filled with swimming and shelling, afternoons spent in shaded hammocks and nighttime beach walks beneath the stars. No traffic lights, no neon signs and not even a ringing cash register on the island mean no distractions here.
The variety of waters offer many types of family fun for those who love the outdoors. There's nothing like fresh-caught crab from these fertile inland waters. From surf casting off the beach to dropping a line from a pier, fishing is a popular pastime here, too. Nearby boat ramps and public launches offer easy access for those bringing their own boat and there are also charter options for fishing with experienced captains.
Exploring the waters by kayak is an amazing adventure and area rental companies like Black River Outdoors (943-546-4840) can provide kayaks or even guided eco tours exploring the plants and animals of the amazing salt marsh habitats. The nearby 55,000-acre Waccamaw National Wildlife Refuge (21424 North Fraser Street, Georgetown, South Carolina 29440; 843-527-8069) is a favorite spot for exploring the Great Pee Dee and the Waccamaw Rivers, both of which run through the refuge.
Brookgreen Gardens (1931 Brookgreen Drive, Murrells Inlet, South Carolina 29576; 843-235-6000) has numerous activities for the entire family. The award-winning botanical and sculpture garden has added attractions like the AZA accredited Lowcountry Zoo and children's educational venues like the Nature & Sensory Trail, Discovery Room, Enchanted Storybook Forest and (seasonally) Whispering Wings Butterfly House.
For exploring on land, the newly completed Waccamaw Neck Bikeway now connects Pawleys Island and Murrells Inlet along 16 miles of a safe, continuous, paved pathway perfect for cycling, jogging and walking. Outdoor attractions like Huntington Beach State Park (16148 Ocean Highway, Murrells Inlet, South Carolina 29576; 843-237-4440), a 2,500-acre nature preserve and National Historic Landmark or the 16,000 acres of Hobcaw Barony (22 Hobcaw Road, Georgetown, South Carolina 29440; 843-546-4623), a premier historic site, are great places to enjoy the outdoors and explore the region's fascinating history.
In nearby Georgetown, the South Carolina Maritime Museum (729 Front Street, Georgetown, South Carolina, 29440; 843-520-0111) and The Rice Museum (633 Front Street, Georgetown, South Carolina 29440; 843-546-7423) offer glimpses into the region's culture and commerce. The Harborwalk on Front Street in Georgetown, with its restaurants and shops, provides families a downtown waterfront experience.
Whether building sandcastles on the secluded beaches of Pawleys Island or exploring all the region has to offer, this is a place for families to reconnect, to rekindle traditions or start new ones. It's a timeless vacation spot. And the time to go is now.
Where to eat
Rustic Table (10683 Ocean Highway, Pawleys Island, South Carolina; 843-314-0164) The menu at Rustic Table features made-from-scratch traditional Southern food and low country specialties with an upscale flair. Open for brunch, lunch and dinner, Rustic Table also has patio seating and a full bar.
Pawleys Island Tavern (10635 Ocean Highway, Pawleys Island, South Carolina 29585; 843-237-8465) is known locally as The PIT and is a favorite among islanders. The atmosphere is a cross between a seafood shack and a juke joint featuring shrimp, crab cakes, beer and blues.
Bisqit (10880 Ocean Highway, Pawleys Island, South Carolina 29585; 843-979-2747) is open for brunch, lunch and dinner. It's known for fresh-made biscuit sandwiches as well as burgers, milkshakes, craft beer and more. Located in the Hammock Shops Village there are activities for the young ones and local retail shops for all to explore.