Pawleys Island named as top fall beach destination
Pawleys Island, known as the oldest seaside resort on the East Coast, has received yet another feather in its cap to add to its long list of accolades.
Southern Living, one of the most respected names in lifestyle and travel journalism, has unveiled its list of "Our 25 Favorite Fall Beach Destinations," and, Pawleys Island was ranked No. 18.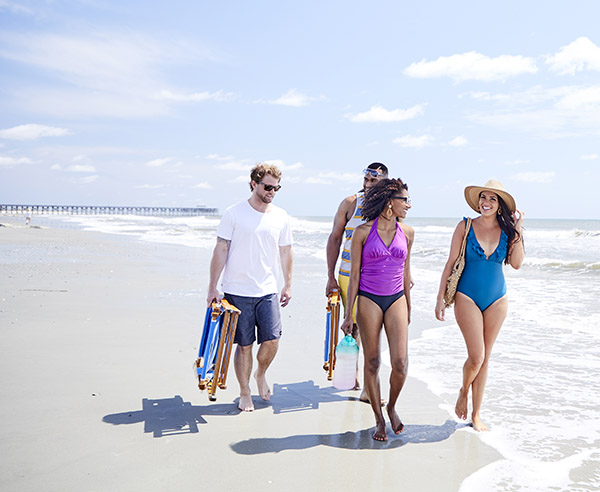 "Pawleys Island has a timeless appeal, combining the natural beauty of the coast with a casual environment that has long made it so popular," said Mark A. Stevens, director of tourism development for the Georgetown County Chamber of Commerce. "It says a lot about the attraction of the beach on Pawleys Island that an authority like Southern Living has ranked it as one of the best in South Carolina for travelers looking to enjoy a fall trip."
The magazine gave praise to Pawleys Island, perfectly capturing the virtues that have long made it one of the most popular vacation spots in the South.
"Pawleys offers a serene Lowcountry experience—the kind of place where you rent an oceanfront cottage for a week and completely forget what you do for a living," the magazine gushed. "Sounds like a dream, right? When you're ready to pull yourself out of your beach chair, check out the kayaking, fishing, shopping, and island nightlife."
Pawleys Island is one of South Carolina's leading destinations, wowing visitors with one of the South's premier beaches, Lowcountry charm and abundant eco-activities. At the heart of the area's popularity is the relaxed environment it provides, delivering a surplus of family friendly activities without the crowds its nearby neighbors – Myrtle Beach and Charleston – attract.
With average high temperatures of 77 degrees in October, 70 in November and 63 in December, Pawleys Island is an ideal location for a fall trip. From golf groups to couples in search of a weekend escape, the island has something for everyone.
Huntington Beach State Park, located just north of Pawleys Island  was ranked 10th on the prestigious list, making these two beaches the Palmetto State's two highest rated destinations.
Southern Living editors emphasized Huntington Beach State Park's natural appeal.
"Camp among the sea breezes at Huntington Beach State Park, a greenspace along South Carolina's coast where you can find sandy beaches, salt marsh, sea turtles, egrets, and herons," Southern Living wrote. "Bring your walking shoes to explore the Sandpiper Pond Nature Trail and Kerrigan Nature Trail. Visit Atalaya, the Huntingtons' home and a National Historic Landmark, at any time, or plan your visit for the Atalaya Arts & Crafts Festival in the fall."
Check out these other recent accolades for Pawleys Island:
Magical and cutest: Pawleys Island makes 2 best-of lists
Golfweek ranks 3 Pawleys Island courses tops in the Palmetto State
Golf in the Pawleys Island area and state earns worldwide recognition