Pawleys Island Festival of Music & Art back for 31st year
Featuring performances by some of the nation's most talented vocalists and musicians, the 31st annual Pawleys Island Festival of Music and Art is once again taking the stage in Pawleys Island.
This series of events, held at The Reserve Club on South Carolina's Hammock Coast®, will dazzle audiences from Oct. 7-22, with a Wine and Food Gala on Oct. 6. Performers include Giada Valenti, whose recent PBS special with Andrea Bocelli took America by storm; Orleans and Firefall, two incredible bands with hit songs from the 1970s; tributes to the beloved Linda Ronstadt and the Temptations; and other talents, including country performer Kurt Thomas and American Idol finalist Michael Lynche. Tickets range from $35 to $100, and all performances are from 7 to 10 p.m. at The Reserve Club.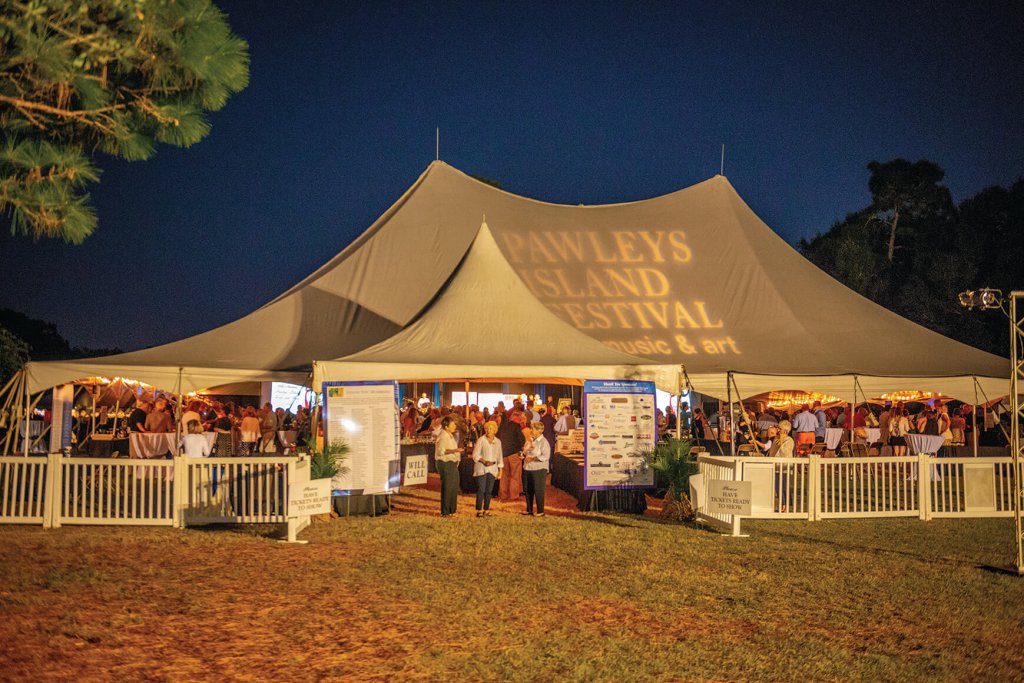 "Some of the best entertainers that we have ever presented will be in Pawleys Island this year, from Broadway to Classical, Country to Pop, as well as Rock-n-Roll and Rhythm and Blues," said Susan Bryant, sales and marketing director for the festival. "If you love live performances, sitting outside in the cool temperatures sipping your favorite beverage, the Pawleys Island Festival of Music and Art is the place to be in October."
Wine and Food Gala
Thursday, Oct. 6, at 7 p.m.
Enjoy delectable gourmet edibles, delicious desserts and more than 70 boutique wines while bidding on artwork and other items in a silent auction during the Pawleys Island Wine and Food Gala. This event is a benefit for the Pawleys Island Festival of Music and Art. Tickets are $100 each. Click here for more information or call 843-626-8911.
Giada Valenti
Friday, Oct. 7
Award-winning Venetian vocalist Giada Valenti whisks her audiences away with pageantry and poignancy, dazzling them with her breathtaking vocals, captivating beauty, and her lavish stage presentation. Though every facet of her artistry has been meticulously nurtured-from her prodigious musical talents to her theatrical savvy as a performer-one thing is in the moment every night: her heart. That is because the Los Angeles-based artist has been brave enough to heed the calling of her soul.
Valenti's currently celebrating a career milestone with her PBS television special From Venice With Love which is now being released as a CD and DVD. The show is a carefully curated celebration of romance that embraces a wonderfully eclectic canon of classic and contemporary love songs.
Within the stunning From Venice With Love show, Valenti gorgeously reimagines songs made popular by such diverse artists as The Carpenters, Rosemary Clooney, The Beatles, The Doors, Christina Perri, The Bee Gees, Linda Ronstadt, Dusty Springfield, Roberta Flack, Bread, and Domenico Modugno, among others. The show was filmed in electric New York City, but the DVD is interspersed with transcendent footage of Giada's beloved home, Venice, Italy. This past June Giada performed with Andrea Bocelli on PBS.
Orleans and Firefall
Saturday, Oct. 8
Two incredible bands join forces to play for an unforgettable night of music.
Orleans is best known as the Pop/Rock band that brought you the classic 70s hits "Still The One," "Dance With Me" and "Love Takes Time." Now in its 49th year, Orleans has produced a body of work spanning 16-plus albums and four DVDs. The band continues to be in great demand for live performances, as they have been for almost five decades.
Co-founders Lance Hoppen and John Hall, along with long-standing member Lane Hoppen and relative newcomers Brady Spencer and Tom Lane deliver Orleans' music with power, class, and integrity. John Hall, whose songs have been recorded by Janis Joplin, Linda Ronstadt, Bonnie Raitt, Chet Atkins, Bobby McFerrin and others released a new solo album "Reclaiming My Time" in May of 2021.
For founder Jock Bartley, Firefall is a 40-year labor of love. Their layered harmonies backed by driving rhythms transcends many genres from rock to country to adult contemporary and brought the band platinum and gold success with such hits as "You Are the Woman," "Strange Way" and "Just Remember I Love You." Other major Firefall radio hits include "Cinderella," "Goodbye I Love You," "Livin' Ain't Livin" and "Mexico." The band has performed with Fleetwood Mac, The Doobie Brothers, Chicago, America, and many others.
Kurt Thomas
Sunday, Oct. 9
An inspiring high school graduation performance and $80 were all it took to get singer/songwriter Kurt Thomas hooked on the music business. And now, the small-town country boy from Dahlonega, Georgia has recorded four CDs and opened for some of the biggest names in country music including Kenny Chesney, Brooks & Dunn, LeAnn Rimes, Gary Alan, Darius Rucker, Zac Brown Band, Ronnie Milsap and Josh Turner.
Thomas grew up enjoying the close-knit country life in Dahlonega where he heard local musician, Jay Drummonds, sing "Small Town" by John Cougar Mellencamp at his high school graduation. At that moment, he decided that's what he wanted to do with his life and after graduation; he bought his first guitar for $80 and started his musical career.
After opening for Chesney, Kurt went on to win CMT's Music City Madness – a nationwide contest that led to Thomas doing an Unplugged Studio 330 session on CMT as well as a mentorship with Grammy-award winning singer, Randy Travis.
The Sharpe Family
Thursday, Oct. 13
Broadway performers and producers Ron and Barbara Sharpe first met onstage in the original Broadway production of "Les Miserables," where they played the romantic lead roles of Marius and Cosette. After being married onstage over 1000 times, they decided to get married and start a family for real!
Now – years later with two grown children, a pair of twins, and three "adopted" family members (the boyfriend, the best friend, and the lovable uncle) — the Sharpe Family Singers bring their love affair with Broadway to stages across America with a family-friendly, Broadway revue called "Married to Broadway."
In "Married to Broadway," the Sharpe Family Singers share their love of Broadway musicals by performing the big show-stopping numbers that are audience favorites around the world. Their repertoire includes songs from new hit Broadway shows like Hamilton and Dear Evan Hansen, blockbuster movies like The Greatest Showman, hits from Disney on Broadway and Broadway's Rock & Roll musicals as well as classic show tunes from "Phantom of the Opera," "Cats," "Evita," "Guys and Dolls," "West Side Story," "Carousel," "Fiddler on the Roof," "Les Miserables," and more.
Love is a Rose Celebrating the Music of Linda Ronstadt
Friday, Oct. 14
Linda Ronstadt's multi-platinum career made her the undisputed "Queen of Country Rock" in the 1970s. By the end of 1978 she was the highest paid female touring musician in history, and the first female to ever sell out stadium sized arenas, worldwide. Sadly, her golden voice has recently been silenced by a form of Parkinson 's disease. Alas, audiences can once again enjoy her iconic hits in "LOVE IS A ROSE: Celebrating the Music of Linda Ronstadt."
​In this sensational act, Paula Hanke and Peggy Ratusz belt out hit song after hit song while adding personal stories and historic accounts of Linda's impressive achievements.
​This charismatic duo comes together following diverse solo careers: Hanke as a casino-showroom headliner, opening for James Taylor and Willie Nelson. She is a heralded recording artist, a sought-after session's singer and was a semi-finalist contestant on TV's "Star Search." Ratusz, an award winning Blues artist, was a three-time semi-finalist in the annual, prestigious International Blues Challenge held in Memphis, TN, as well as opening act for Tedeschi-Trucks Band and The Beach Boys.
A Tribute to the Temptations featuring Nate Evans
Saturday, Oct. 15
When five men took the stage more than 60 years ago their stunning harmonies and tight choreography combined with excellent leads created a legend. The Temptations made musical history with their string of fabulous pop and funk hits in the sixties and seventies and managed to weather a steady stream of changes in personnel and consumer tastes to be able to continue the history.
The Temptations started performing on bus tours called The Motor Town Revues that crisscrossed the country and drew scattered crowds. But those crowds became larger and larger until there was a legion of dedicated fans. The Temptations, working first with Smokey Robinson and then with others, scored hits like "My Girl," "The Way You Do The Things You Do," "Get Ready," and "Ain't Too Proud to Beg."
Following the death of David Ruffin, Dennis Edwards and Eddie Kendricks began touring as "The Temptations", still with David Sea and Nate Evans, and bringing in another former Temptation, Damon Harris. Their hits include "The Way You Do The Things You Do," "My Girl," "I Wish It Would Rain," "Since I Lost My Baby," "You're My Everything," "I'm Gonna Make You Love Me," "Get Ready," "Ain't Too Proud to Beg," "(I Know) I'm Losing You," "Cloud Nine," "Psychedelic Shack," "Runaway Child, Running Wild," "Ball Of Confusion," "I Can't Get Next To You," "Masterpiece" and "Just My Imagination."
Michael Lynche
Thursday, Oct. 20
American Idol finalist Michael Lynche is a new breed of soul singer with completely classic influences. Traces of Donny Hathaway, Al Green, Luther Vandross, Sam Cooke and James Brown all seem to flash in this uniquely talented performer. Undeniable charisma, well-crafted song arrangements and a voice soaked in soul give the big man class all his own.
"Big Mike"—as he was known while winning over the hearts of a nation during his stint on American Idol — has talent so versatile, he's played intimate jazz & blues clubs, 20,000 seat arenas and opera halls with 100-piece orchestras backing him. Through it all "Big Mike" has always had one singular goal: to spread a message of love wherever he goes.
A New York City resident for the last 15-plus years, this Florida native rose from obscurity as a finalist on season 9 of the hit phenomenon, American Idol.
After wowing millions of fans on American Idol with his comforting and powerful voice and performing throughout the United States as part of the American Idol LIVE! Tour, Big Mike has released 2 studio albums, toured as an opening act for Boyz II Men, Lalah Hathaway, Faith Evans, and Lyfe Jennings and toured the world with his honest storytelling brand of soul music.
Jim Brickman – Brickman Across America
Friday, Oct. 21
In this special concert event, Jim Brickman performs his most popular songs like "Valentine," "Love of My Life," "Never Alone," and "The Gift," plus brand-new songs that capture the sound and spirit of American music.
Brickman's distinctive piano style and captivating live performances have revolutionized the popularity of instrumental music, making him a driving force behind modern American music.
The hit-making songwriter is the best-selling solo pianist of our time – earning 21 Number One albums and 32 Top 20 Radio Singles in the industry bible, "Billboard Magazine." He's garnered two Grammy nominations, gospel music's Dove Award, two SESAC Songwriter of the Year Awards, and the Canadian Country Music Award.
Private Eyes-The Hall & Oates Tribute (tabled event)
Saturday, Oct. 22
Private Eyes, a Tribute to Daryl Hall & John Oates, was formed in 2018. Their mission was clear and precise: to deliver the timeless music from the best-selling duo of all time with a craftsman's precision, as well as aiming for the visual blend of their classic late 70's to early 80's image.
Founder, Music Director, and Bassist Chris Willshire undertook a nationwide search for the right vocalist who could replicate the blue-eyed soul of Daryl Hall, only to find frontman Mark Wilson in his own San Fernando Valley backyard. Wilson is a graduate of Berklee College of Music in Boston, and his diverse background includes having toured with Frankie Valli as one of the Four Seasons, serving as an opening act with the Marcels for Tina Turner, and contributing background vocals for John Denver & Garth Brooks. He has also been a member of the Grammy-nominated Los Angeles Jazz Choir.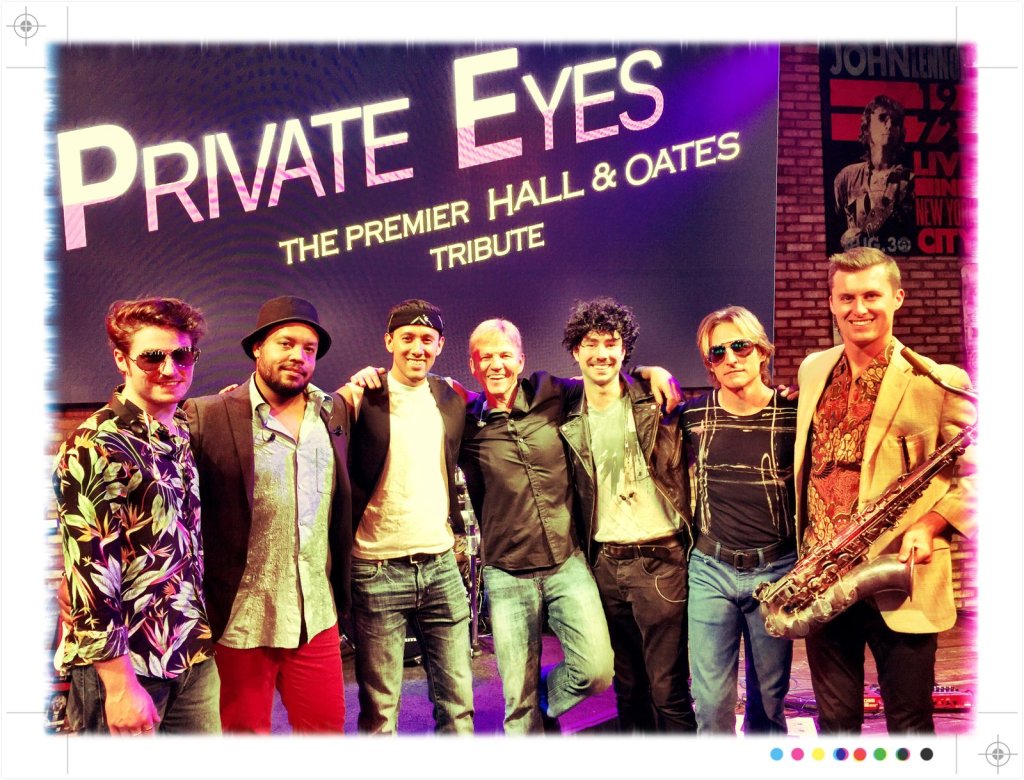 A TV editor by day, Bassist Chris Willshire's credits include promo material for such CW network shows as "Supernatural," "The Flash," "Arrow," and "Black Lightning," in addition to episodes of Bravo's "Top Chef."
He met future Oates, Nate Beausoleil, while working on the HGTV shows Flip or Flop and House Hunters. Beausoleil is an in-demand Field Audio Engineer for various HGTV shows, as well as for indie films and documentaries. Nate also keeps busy editing and mixing audio for a variety of clients and projects.
The Pawleys Island Festival of Music and Art is a nonprofit organization whose mission is to create and enhance cultural awareness and enrich the quality of life for residents and visitors by providing quality performances, programs, and educational opportunities in music and the arts in the South Carolina area.
For more information and the latest updates on the Pawleys Island Festival of Music and Art, including ticket sales, visit http://www.pawleysmusic.com/ or call 843-626-8911.