Pawleys Island beach tapped for Southern Living best-of list
The people lucky enough to live near Pawleys Island know just how truly special this pristine beach is for visitors and residents alike.
Now, Pawleys Island, the oldest seaside resort in South Carolina, has been highlighted in a list of the best South Carolina beaches by Southern Living magazine.
In an article titled "The Best South Carolina Beaches For A Relaxing Lowcountry Getaway," Southern Living Associate Editor Kaitlyn Yarborough wrote, "Between the salt marshes, palmetto trees, broad beaches, seafood dives, and preserved wildlife, the coast has plenty going for it. … Here are the eight best South Carolina beaches to visit now."
Yarborough wrote this about Pawleys Island: "The lack of commercialism is something that draws people to the quiet town, especially considering it can be found between bustling neighbors, Charleston and Myrtle Beach."
She continued, stating that, "This South Carolina coastal town is known for its hand-woven hammocks, upon which we'd like to hang a while, but it makes sure to keep you interested with pristine beaches, surf-worthy waves, great seafood, Lowcountry marshland, and an easygoing attitude (hence, its affinity for hammocks)."
Yarborough even took note of the oceanfront Sea View Inn, established in 1937. Calling the experience of staying at the inn, one of only two commercial entities on historic Pawleys, "an old-school island experience."
"How wonderful to see Pawleys Island featured on this latest best-of list," said Clayton Stairs, tourism manager for the Georgetown County Chamber of Commerce. "Accolades are nothing new to us, of course, but it's extra special when Pawleys Island shines so brightly on such a small, exclusive list."
In her article, Yarborough mentioned places near Pawleys Island, called South Carolina's Hammock Coast, saying that Murrells Inlet "boasts an impressive selection of restaurants and plenty of live music to keep everyone full and happy" on the iconic MarshWalk. She also cites Huntington Beach State Park's "three miles of milk-white sands" as more evidence why the beach community deserved its spot as one of South Carolina's best.
Rounding out Southern Living's list is the Hammock Coast's DeBordieu Colony, which she called one of South Carolina's "best-kept secrets."
"DeBordieu is a tucked-away community that teases visitors with the ultimate natural escape, which can only be attributed to its committed preservation of South Carolina's stunning scenery and wildlife," she wrote. "It's also located just 10 miles from Georgetown, which has a historic district worth visiting on days when respite from the sandy shore is needed."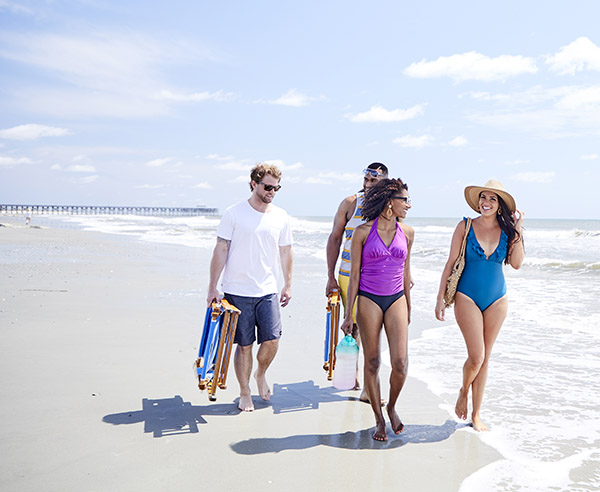 Yarborough summed up her beach best-of list by writing, "Whether you're a fan of the lush Lowcountry scenery or the gorgeous … sands, there's a South Carolina beach waiting to whisk away your worries." She has written for Southern Living since 2017 and earned her bachelor's degree in journalism from the University of Georgia with a focus in magazine writing. She completed a program in Prague that honed her travel writing skills. She covers a wide variety of topics for both the magazine and its website, focusing on culture and lifestyle content, as well as travel in the South.
This is certainly not the first time that Pawleys Island has been featured in a national publication. Recently, Garden & Gun magazine named Pawleys Island one of the South's Best Beach Towns.
By Mark A. Stevens/ director of tourism development for the Georgetown County Chamber of Commerce