Pawleys Island celebrates Independence Day with style
Whether you enjoy parades, live music concerts, fireworks, or all three, celebrating Independence Day in and around Pawleys Island has a lot to offer. Below are some of the best options in the area:
Pawleys Island July 4th Parade
The Pawleys Island July 4th Parade is a fun community event that allows residents and visitors alike to express their patriotism on July 4th. Visitors and locals alike parade down the Island in anything that becomes a makeshift float – be it a boat, car, or flatbed truck – all of which will be decorated in a variety of themes incorporating red, white, and blue.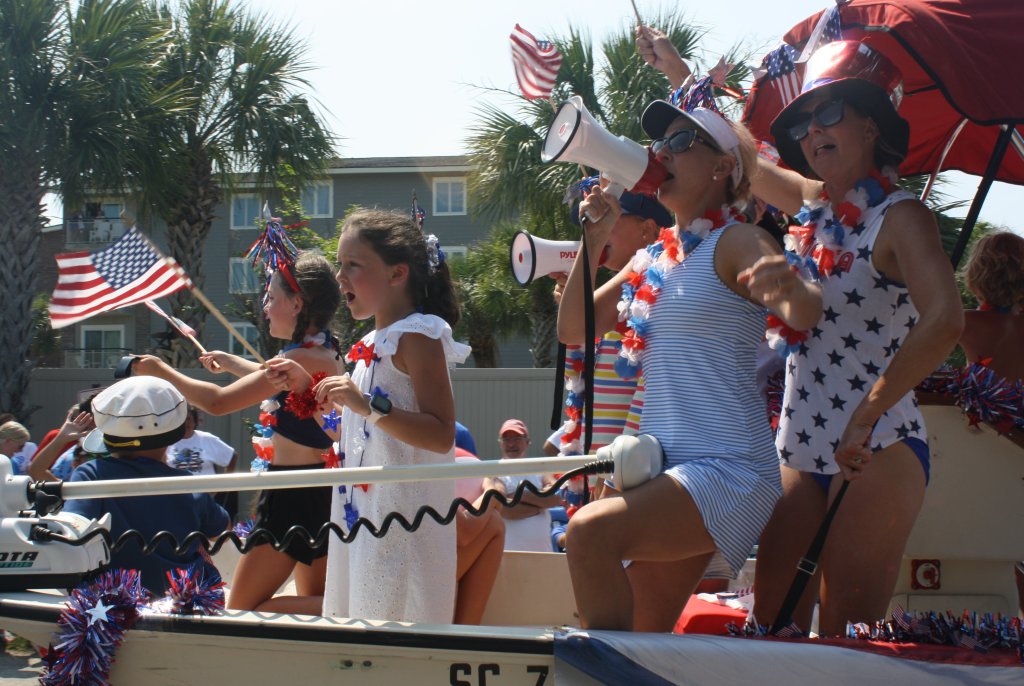 The parade begins at 10 a.m. on July 4th. To enter a float in the parade, stop by the Town Hall, 323 Myrtle Ave., Pawleys Island to fill out an application. The cost to enter is $20 in advance, the day of the parade it is $30. That price includes a free event T-shirt. Applications will be available Monday through Friday, 10 a.m. to 5 p.m. until the day of the parade. Trophy categories include Best Overall Float 1st, 2nd & 3rd place; Best House; and Best Dock.
For more information, call 843-237-1698, email Daniel at info@townofpi.com, or click here.
Patriotic Flyover along beaches
Crowds will gather on local beaches on Pawleys Island, Litchfield, North Litchfield and Garden City around 1 p.m. for the annual Salute From the Shore. A variety of military planes will fly along the coastline and video the patriotic crowds.
You can help support Salute From the Shore by doing any or all of these things:
Go "BIG" — Get a huge flag or get creative and head to the beach on July 4th in red, white, and blue.
Record your salute on camera and share it with the world – on Facebook, YouTube, Twitter, Instagram, a blog, or any other place you want.
Take photos during the event. Photos of the aircraft are great. Photos of people saluting aircraft are better.
Tag your Salute images and videos with #SalutefromtheShore
Make it personal. Whether you love someone serving overseas or remember a fallen hero, share your tribute. You can do that on this page: https://salutefromtheshore.org/share-your-salute.
Tell organizers what you think! Send your comments to salute@salutefromtheshore.org.
Independence Day Celebration: Pawleys Island Concert Band at Precious Blood Church
Experience live patriotic music played by Pawleys Island Concert Band at 5 p.m. on July 4th. The Pawleys Island Concert Band is a group of local musicians who perform throughout the area. This event is free and open to the public.
For more information, click here.
Georgetown Indigo Choral Society Concert and July 4th fireworks
Spend Independence Day in historic Georgetown. On the lawn of the historic Kaminski House Museum from 6:30 to 8:30 p.m., you can experience a one-of-a-kind patriotic performance by the Indigo Choral Society. Come out, bring a chair, your favorite snacks, and camp out on the lawn for the concert for beautiful music and stick around for a fireworks display like no other.
Georgetown's celebrated fireworks start at around 9:30 p.m. Directed by the Georgetown City Fire Department, fireworks will be set off at Morgan Park and can be seen from East Bay Park.
http://www.kaminskimuseum.org/
http://www.georgetowncityfire.org/
Murrells Inlet July 4th Boat Parade
The 39th annual Murrells Inlet Boat Parade will take place at 6 p.m. on Monday, July 4. Boats decorated in patriotic themes will start at the point of Garden City Beach and make their way through Murrells Inlet, along the waterfront. Lineup starts at 5 p.m. This year's theme is "Made in the U.S.A."
To encourage more participation, the committee has decided to waive the boat entry fee. Likewise, awards will not be distributed this year. Preferred viewing areas are along the Murrells Inlet Marsh Walk, Belin United Methodist Church, and Morse Park Landing.
Commemorative T-shirts will be available, with proceeds benefiting the Belin United Methodist Church Boy Scout Troop 396. Locations for purchase before the parade will be announced soon.
The parade committee would like to remind participants and spectators to protect our coastal wetlands and refrain from littering during this event. Boat and dock decorating participants are asked to avoid incorporating elements into their design that involve throwing objects into the water, including water balloons, which pollute the environment and are harmful to the local wildlife.
For more information, contact Lee Hewitt 843-652-4236 or visit the event's Facebook page at Murrells Inlet Boat Parade.
Fourth of July fireworks celebration in Murrells Inlet
Don't miss the annual fireworks display over the scenic waterfront along the Murrells Inlet MarshWalk. The show starts around 10 p.m. and lasts approximately 20 minutes.
Get there early to enjoy dinner and drinks at one of the restaurants along the MarshWalk. Parking will fill up quickly and there are usually crowds. For more information, click here.
Compiled by Clayton Stairs / tourism manager for the Georgetown County Chamber of Commerce and South Carolina's Hammock Coast