Our Top 5 picks for seafood restaurants in the Pawleys area
After spending a day sunning on the Pawleys Island beach, shopping in local stores, or playing a round on one of the area's award-winning golf courses, you've built up a substantial appetite.
Luckily, just off the island are a host of restaurants for you to enjoy a delicious dinner.
For those in search of the best seafood in the Pawleys area, we've picked five restaurants, none more more than 10 minutes away from the island, that will not disappoint:
BISTRO 217
Bistro 217 was opened in 2004 by established restaurateurs, Anne Hardee and Chef Adam Kirby. Hardee says she gave the business its name because it was the duo's second restaurant, and because it's located on U.S. Highway 17, the main north/south thoroughfare skirting the Pawleys Island area.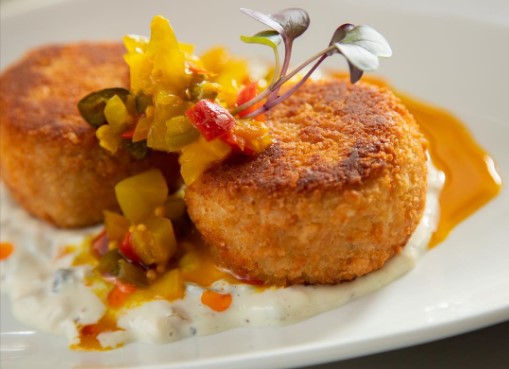 Inside the restaurant are banquettes and booths, a well-defined bar area and nifty little nooks for business meals or pleasurable privacy. Bistro 217 continues to strive to deliver a great atmosphere, superior service and delicious, eclectic food.
Located at 10707 Ocean Highway in Pawleys Island, Bistro 217 is open Monday through Saturday from 11 a.m. to 3 p.m. and 5 to 9 p.m. For reservations, call 843-235-8217.
Here are a few of the restaurant's creative seafood items:
Pecan-Encrusted Trigger Fish Salad – Spinach, strawberries, blueberries, candied pecans, poppy seed dressing, Stella bleu cheese crumbles.
Crab Nachos – Fresh avocado, pico de gallo, cilantro, tomatoes, green onion, salsa roja
Crab Cakes – Lump crab, tartar, southern chow chow.
Shrimp Fried Rice – Edamame, shiitake mushrooms, green onion, carrots, cilantro, bean sprouts, egg, jasmine rice, soy sauce.
Fish Tacos – Cilantro-encrusted fresh catch in a grilled flour tortilla, remoulade sauce, rustic avocado salad, white corn chips, salsa cruda.
PAWLEYS ISLAND TAVERN
With fresh, seasonal, and local ingredients, menu selections at Pawleys Island Tavern, famously known as the PIT, are never the same twice. From steak to shrimp, grilled mahi-mahi to one-of-a-kind pizza, this local favorite has got something for every palate. (Yes, kids will find lots to enjoy here, too.)
Located at 10635 Ocean Highway in Pawleys Island, The PIT is open from Tuesday to Saturday from 11 a.m. to 2 p.m. For reservations, call 843-237-8465.
Here are some delectable seafood items on the menu:
Crab Balls – crab cake recipe rolled up bite-sized and fried until golden brown
Grouper Fingers – strips of grouper lightly breaded and fried
Peel 'n' Eat Shrimp – one-third pound of domestic shrimp steamed in Pabst Blue Ribbon and Old Bay
Calamari, served with Dijon marmalade
Crab Cake Sandwich – on sesame bun, served with coleslaw
LOCAL EAT DRINK CELEBRATE
Local Eat Drink Celebrate offers a family-friendly dining room and an eclectic menu. It has vegan and vegetarian options, gluten-free choices, as well as meat-lovers items. All meals pair well with one of 19 local beers on tap, or a signature cocktail or mimosa.
Located at 10880 Ocean Highway, Unit 21, in Pawleys Island, Local is open Monday, Wednesday, Thursday and Friday from 11 a.m. to 9 p.m.; Saturday from 10 a.m. to 9 p.m.; and Sunday from 10 a.m. to 4 p.m. For reservations, call 843-314-0474.
Here are some of the seafood items offered at the restaurant:
Crab cake appetizer with remoulade
Fried local oyster or shrimp sandwich, topped with lettuce, tomato and remoulade
Local oysters and/or shrimp basket, served with boardwalk fries, coleslaw and remoulade or Bloody Mary cocktail sauce
Crab cakes over lemon-basil risotto with crispy Brussel sprouts and remoulade
Quigley's Pint & Plate
Quigley's Pint & Plate opened in March of 2007 under the ownership of Josh Quigley, Billy Davis and Executive Chef Joey Johnson. A local's favorite, Quigley's is a family-friendly restaurant and brewery with a touch of warm Southern hospitality. Each meal at Quigley's is unique and inspired by traditional Lowcountry ingredients.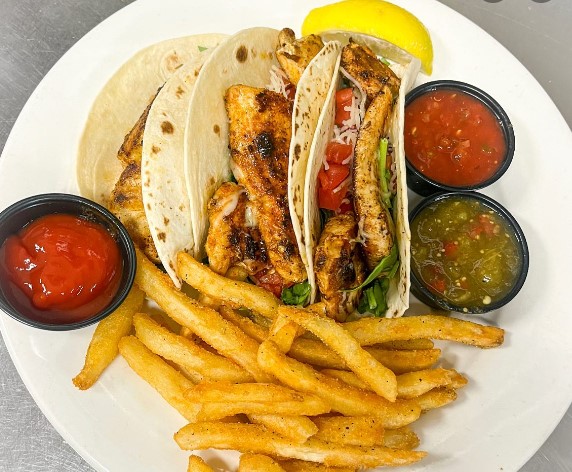 Located at 257 Willbrook Blvd. in the Litchfield community of Pawleys Island, Quigley's is open seven days a week from 11:30 a.m. to 10 p.m. Call 843-237-7010 for reservations.
Enjoy these seafood specialties:
Ahi Tuna Nachos – sesame-seared rare tuna on flour tortilla crisps with seaweed salad, cucumber wasabi cream, and sriracha sauce
Blackened Mahi Greek Salad – spring mix, tomato, onions, cucumbers, carrots, pepperoncini, kalamata olives and feta cheese with Greek vinaigrette
Thai Shrimp Wrap – fried shrimp, spinach, tomato, shredded carrots, and thai chili glaze in a tomato basil wrap
Blackened Mahi Tacos – four tortillas stuffed with blackened mahi, fresh spinache, diced tomatoes, and Monterey Jack cheese, served with two salsas.
HANSER HOUSE
Hanser House is a family-owned restaurant opened in 1999 by Juanita "Granny" Hanser. The restaurant offers an extensive menu specializing in home cooking, fresh local seafood, and choice aged beef. Executive Chef Heath Hanser makes the menu special by sourcing locally and using family recipes.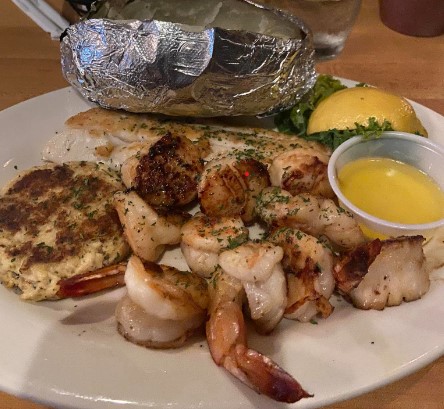 Located at 14360 Ocean Highway in the Litchfield community of Pawleys Island, Hanser House is open for dinner Monday through Saturday from 4 to 10 p.m. For reservations, call 843-235-3021.
Check out some of the restaurant's seafood creations:
Buffalo Shrimp – a half pound of fire hot, bite-size Buffalo creek shrimp, served with jalapeno cream sauce
Southern Oyster Rockerfeller – select oysters on the half shell, topped with collard greens, chopped bacon, cheese and spices, baked to perfection
Hanser Family She Crab Soup – a secret award-winning Hanser House recipe that has been around for generations
Cajun Fried Grits N' Shrimp – fried jalapeno grits topped with fried shrimp and Cajun cream sauce
Compiled by Clayton Stairs / tourism manager for the Georgetown County Chamber of Commerce and South Carolina's Hammock Coast