Nights of a Thousand Candles shining in national contest
Tickets are now on sale for Brookgreen Gardens' award-winning, much-loved Nights of a Thousand Candles.
Brookgreen is only a few miles north of historic Pawleys Island. The 91-year-old botanical and sculpture garden is a must-see attraction for anyone visiting Pawleys, and, during the holidays, it's even more special.
Tickets for Nights of a Thousand Candles must be purchased in advance and are first-come, first-served. The annual event, which stretches on select nights from Nov. 26, 2022, through Jan. 1, 2023, quickly sells out every year.
Brookgreen Gardens' Nights of a Thousand Candles has been a shining example of holiday merriment for years. It is the most popular event held at the world-renown sculpture garden and is recognized by many as South Carolina's premier Christmas attraction. Hours for the event are from 4-9 p.m. on each of the select nights. A ticket to Nights of a Thousand Candles is not part of a regular admission ticket to Brookgreen and must be purchased separately.
Tickets are: for members, $30 each for adults and $14 each for children; and for non-members, $35 each for adults and $17 for children.
Nights of a Thousand Candles is in the running again as one of 20 finalists for the 2022 USA Today/10 Best "Best Botanical Garden Holiday Lights" contest.
The winner of the contest will be determined by an online vote that runs through noon on Dec. 5. People can vote daily by clicking here. The top 10 finishers will be announced Dec. 16 on 10Best.
While the competition is strong, Brookgreen Gardens' Nights of a Thousand Candles' nomination is not exactly a surprise. The event, open to the public for 20 nights, from 4 to 9 p.m., in November, December and January, is one of the most popular events near Pawleys Island.
In the 10Best contest, Nights of a Thousand Candles is competing against holiday light shows from 17 different states, ranging from New York City to Albuquerque, New Mexico.
This is not the first time Nights of a Thousand Candles has been in the running for the coveted award. In 2018, Murrells Inlet-based Brookgreen finished in 10th place. In 2019, Brookgreen broke the Top 5, finishing at No. 4. And last year, in 2021, it placed third in the contest.
"We are excited to be nominated again and appreciate everyone who has voted for us," said Page Kiniry, Brookgreen Gardens' president and CEO. "The staff and volunteers take a great deal of pride in this recognition."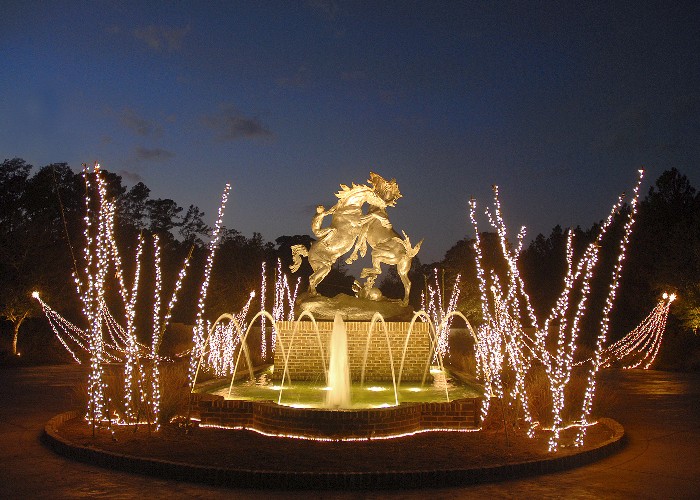 With holiday music playing and live performances nightly, Brookgreen comes to life under the glow of more than 2,800 hand-lit candles and countless twinkling lights throughout several acres. Guests enjoy a serene evening at one of America's best public gardens while enjoying warm cider or hot cocoa and spending time with family and friends.
"This year, we are hoping to get Brookgreen Gardens and Nights of a Thousand Candles to No. 1," said Mark A. Stevens, director of tourism development for the Georgetown County Chamber of Commerce. "It's just not Christmas without a visit to Brookgreen Gardens and finding yourself immersed among thousands upon thousands twinkling lights. Residents of and visitors to Pawleys Island all love this annual event."
Each year, it takes weeks — and a dedicated group of staff and volunteers — to make Brookgreen come alive with a dizzying display of lights.
Brookgreen Gardens is celebrating its 91st anniversary this year. Founded in 1931 by Anna Hyatt Huntington and Archer Huntington, Brookgreen is home to the largest and most significant collection of American figurative sculpture in the country and is a leader in sculpture conservation, environmental conservation, and the protection of the plants, animals, and history of the South Carolina Lowcountry.
Located between Charleston to the south and Myrtle Beach to the north, Pawleys Island features the best Palmetto State has to offer, providing vacationers stunning natural beauty and abundant eco-activities.
Again, place your vote for Nights of Thousand Candles by clicking here.
For more information about Pawleys Island, visit OnlyPawleys.com.
By Clayton Stairs / tourism manager for the Georgetown County Chamber of Commerce