Historical Marker erected to help preserve and protect Pawleys Island Chapel
One of the most iconic buildings on South Carolina's Hammock Coast — the Pawleys Island House of Worship — is now protected for generations to come.
Widely known as Pawleys Chapel or just the Chapel and located on the creek side of Myrtle Avenue on the island, the one-room church building now has a South Carolina Historical Marker that shares the building's past while effectively protecting its future. The marker was unveiled on Sunday, June 6.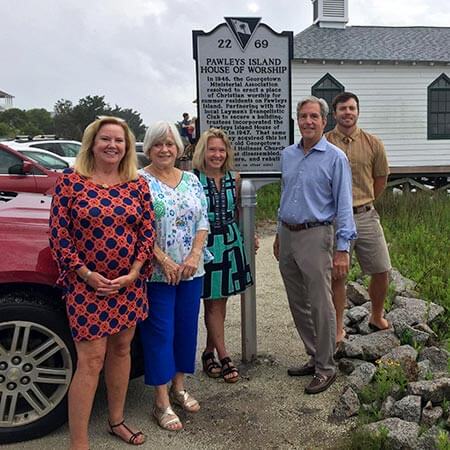 "We've been working on this for about a year and a half, primarily to preserve and protect the Chapel so if we do have a major storm, we can put it back the way it is," said Betsy Altman, owner and broker of Pawleys Island Realty, a member of the Pawleys Island Civic Association and a member of Pawleys Island House of Worship nonprofit group. "If it wasn't a historic building, we couldn't do that."
She explained that because it is considered historic, the Town of Pawleys Island will allow the building to be repaired if it is damaged more than the 50 percent, as specified in federal flood regulations. Altman said the Pawleys Island Civic Association wants to keep the building the way it is and was for more than 70 years.
"For so many people, vacationers and owners alike, it means so much to them," Altman said. "We really tried to keep it the way it was, the way it was meant to be, and we hope, the way it will always be."
Bret Queary from Columbus, Ohio, said he and his family have been coming to Pawleys Island for 20 years and they enjoy attending services at the Chapel each year.
"It is really just a unique place with a gorgeous view of the marsh," he said. "We really enjoy it and it means a lot to us."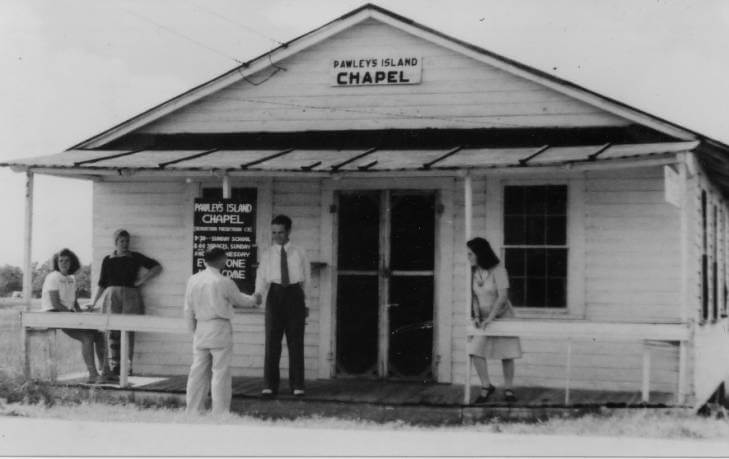 The building has survived three major hurricanes: Hazel, Hugo, and Matthew. While there was major damage from Hugo, help from locals and the Pawleys Island Rotary helped finance extensive restorations.
The Chapel also saw major restorations in 2005, which gave the building a new roof, siding, windows, and central heat and air conditioning. These restorations were followed by a foundation repair that took place in 2018. The Chapel was lifted from its foundation and moved across the street between the North and South Causeways to reinforce the foundation.
The Chapel is the island's singular house of worship and offers interdenominational services each Sunday at 10 am. The Chapel is also a beautiful setting for weddings, Christenings, and memorials from September through May. All ceremonies are conducted by an ordained minister.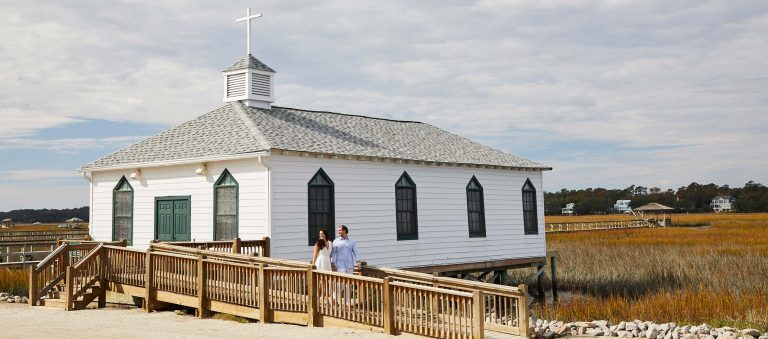 Fran Ward and Jim Cornwell, who are also members of the Pawleys Island House of Worship nonprofit group, agreed. Ward said she was very excited about the historical marker.
"We are feeling tears of joy," she said. "It is a beautiful marker that represents us in a way have we have not had before."
Cromwell said he knows residents and visitors to the island will appreciate the marker for years to come.
"This chapel has meant a lot to so many people for so long, it's only right that there is a marker that preserves the history of the chapel," he said. "I think it is important."
Edwin Breeden, staff historian for the South Carolina State Historic Preservation Office, is also the coordinator for the South Carolina Historical Marker Program and co-coordinator for the National Register of Historic Places Program. He explained that to be listed in the National Historic Register, places are evaluated both in terms of their historical importance and the degree to which they can still physically represent the period in which they assumed that importance.
"So, if a place is no longer extant or has been drastically altered, then it probably won't be eligible," he said. "But the same place may be eligible for a state historical marker, which doesn't require somewhere still have physical integrity."
Breeden, who was involved with the wording on the marker, said the most basic goal of the marker program is education.
"Markers are meant to bring public attention to historically significant places in local communities and provide readers just enough of that place's history to convey why it's significant," he said.
Breeden added that the South Carolina Department of Archives and History has approved more than 1,700 historical markers across the state. There are lots of historical markers around the state, but they are just not official state historical markers, he said.
"Some places you can tell have a story as soon as you see them, and markers can help satisfy people's natural curiosity about what that story is," Breeden said. "The chapel is a great example of such a place, and we're excited to have a marker there to help share its history with locals and others visiting the island."
Anyone interested in hosting an event at the Chapel should contact Pawleys Island Realty. For details and to confirm that a date is available, call 843-237-2000.
To learn more about the South Carolina Historical Marker Program, contact coordinator Edwin Breeden by email at ebreeden@scdah.sc.gov or call 803-896-6182.
By Clayton Stairs / tourism manager for the Georgetown County Chamber of Commerce