Pawleys Island and the surrounding area is home to some of the Palmetto State's finest restaurants and this Thanksgiving many of them are going to be serving "Turkey Day" favorites with a Lowcountry flair.
But a word to the wise – reservations are often a must, so make your decisions – and your reservations – as soon as possible.
Below is a look at who's serving up some fantastic selections for your delicious Thanksgiving feast. The restaurants featured here are all members of the Georgetown County Chamber of Commerce.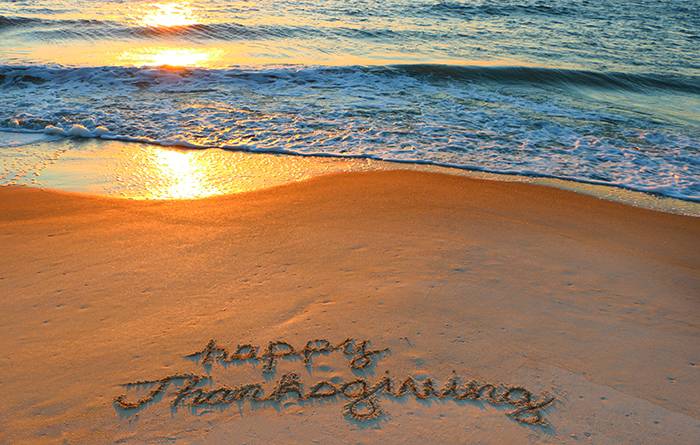 Coastal Dish Thanksgiving Buffet
Thursday, Nov. 23, Noon to 4 p.m.
Located at Litchfield Beach & Golf Resort, Coastal Dish always serves up a much-anticipated Thanksgiving buffet, pairing roasted turkey and honey ham with an assortment of sides. In addition to butternut squash soup and a salad bar, folks will enjoy Brussel sprouts and bacon, green bean casserole, sweet potato casserole, cornbread stuffing, mac-and-cheese and more. Dessert offerings will include pumpkin pie, apple pie and carrot cake. The Coastal Dish buffet is $12.99 for children and $25.99 for adults. Diners will need to call ahead for reservations, as seating is limited. Call the restaurant at 843-489-6632, or visit the website here.
Local Eat Drink Celebrate
Thursday, Nov. 23, 11 a.m. to 2:30 p.m.
Local Eat Drink Celebrate, located in The Hammock Shops Village in Pawleys Island, is offering a full menu on Thanksgiving, as well as some great Thanksgiving-inspired features. Make your reservation by calling 843-314-0474, or by visiting resy.com.
Get Carried Away Southern Takeout
Taking orders until Nov. 18
Get Carried Away Southern Takeout, popular in Pawleys Island for years and maker of the iconic Palmetto Cheese, is taking Thanksgiving orders through Nov. 18. Get Carried Away offers a host of Southern-style sides to complete your holiday meal. Turkey breasts can be ordered before Nov. 11. After that, you provide the turkey or ham and Get Carried Away takes care of the rest. Sides are available in small, medium and large sizes and include squash casserole, mac-and-cheese, cornbread dressing, sweet potato casserole, and corn pudding. Breakfast casseroles, biscuits, yeast rolls, pies, cakes and more are also available. Sides start at $10 for small portions. Biscuits are $15 for 16 pieces. Casseroles start at $14. Desserts are $26-$35. Get Carried Away is located at 10126 Ocean Highway, Pawleys Island. For more information, call 843-314-3493 or visit the Get Carried Away website here.
Pawleys Plantation Golf & Country Club Thanksgiving Brunch
Thursday, Nov. 23, 10 a.m. to 2 p.m.
Pawleys Plantation Golf & Country Club, which is open to the public, will serve up a Thanksgiving brunch for the holiday from 10 a.m. to 2 p.m. Seatings will be on the hour. Carving stations will offer prime rib and roasted turkey breast while the buffet will feature honey-glazed ham, garlic mashed potatoes, sweet potato casserole, breakfast selections, desserts and pies. The cost is $32 per person for members and $40 for non-members. Meals for children 12 and under are half price. Diners can add a Thanksgiving mimosa for $3.99 or a Turkey Day Bloody Mary for $4.99. Reservations are required. For more information, call 843-237-6041, or visit the club's website here.
Wahoo's Fish House Thanksgiving Buffet
Thursday, Nov. 23, 11 a.m. to 5 p.m.
Murrells Inlet is the Seafood Capital of South Carolina, and Wahoo's Fish House, one of the famed MarshWalk's most popular restaurants, will host a Seafood and Traditional Thanksgiving Buffet from 11 a.m. to 5 p.m. The buffet will include a carving station with roasted or fried turkey, honey-baked ham, carved prime rib, roast pork tenderloin with apple chutney; a hot food station with fried fish, fried shrimp, baked barbecued salmon, cornbread stuffing, giblet gravy, sweet potato soufflé, whipped potatoes, rice pilaf, succotash, sweet corn pudding, mac and cheese, slow-braised carrots, glazed-baby carrots, green bean casserole, vegetable medley and hushpuppies; a soup and quiche bar with seafood gumbo and assorted quiches; a cold food station with peel-and-eat shrimp, cheese, fruit and crackers, coleslaw, macaroni salad, potato salad, cranberry sauce, smoked salmon and house-tossed salad; and a dessert bar with Southern-style pecan pie, pumpkin pie, banana pudding, New York-style cheese cake, brownies and lemon bars. Reservations are preferred, but walk-ins are welcome. Cost is $34.95 for adults, $14.95 for children ages 6-12, and children 5 and under dine for free. Wahoo's is located at 3993 U.S. Highway 17 Business. For more information or to make a reservation, call 843-651-5800. For more about Wahoo's, visit the restaurant's website here.
Wicked Tuna Thanksgiving Feast
Thursday, Nov. 23, 11 a.m. – 5 p.m.
Wicked Tuna is combining some of its signature seafood offerings with a traditional Thanksgiving smorgasbord. In addition to the stunning views Wicked Tuna enjoys along the MarshWalk, diners will feast on a raw bar that offers raw oysters, peel-and-eat shrimp, shrimp cocktail, clams and mussels. The more traditional offerings will include roasted turkey, prime rib and ham, along with grilled salmon, shrimp and grits and a fresh local catch. Thanksgiving "trimmings" will feature mashed potatoes, turkey gravy, sweet potato souffle, collard greens, green bean casserole and much more. Throw in kids favorites such as chicken tenders, popcorn shrimp and cheeseburger sliders, along with a dessert bar full of "wicked" sweets and treats, and the Wicked Tuna buffet will have something for everyone. Cost of the buffet is $45 for adults, $25 for kids age 6 to 10, and children five and under eat free. For more information, visit the Wicked Tuna website here.
Grumpy Mustache Thanksgiving To-Go Dinners
Accepting pre-orders until Friday, Nov. 17
Let The Grumpy Mustache take care of your Thanksgiving Day needs. The restaurant will be accepting pre-orders only with a $50 deposit. Pre-ordering will be available now until Friday, Nov. 17, or until they are sold out. Pick up will be on Nov. 21 and 22. Meal packages serving 4-6 people are $89.99 and meal packages serving 8-10 people are $149.99. A deposit will not be needed for individual meals, which are $15 each, but customers are asked to pre-order them. Meals will be cold, with heating instructions given. The include pre-sliced oven-roasted turkey breast, homemade mashed potatoes and gravy, buttered carrots, bread-and-celery dressing, green beans, cranberry sauce, rolls and butter, and pumpkin pie with whipped topping. To order, call the Grumpy Mustache at 843-357-9998 or stop in the restaurant at 3140 Highway 17 Business A in Murrells Inlet.
——
While the above article features where you can reserve your family's holiday meal, we also want to mention Aunny's Country Kitchen, an iconic Hammock Coast restaurant that annually offers a free Thanksgiving meal. Located in historic Georgetown at 926 Front St., Aunny's meal is served from 11 a.m. to 4 p.m. on Thanksgiving Day. The Rev. Charles and Andrea "Aunny" Johnson and their staff, as well as dozens of volunteers from local churches and organizations, will come together to offer the meal to anyone who would like to join them. Over the years, the meal has been enjoyed by locals, tourists and even visitors arriving in Georgetown by boat. While the meal is always free, donations are accepted. Aunny's will serve favorite holiday items including turkey (baked or fried), fried chicken, ham, corn, collard greens, candied yams, butter beans, stuffing, white or yellow rice and desserts at the restaurant. All dinners will be served in to-go containers. Pick-up orders will be available, and walk-ins are welcome. For more information, call the restaurant at 843-461-4750.
Compiled by Chris King and Clayton Stairs for the Georgetown County Chamber of Commerce