Things to do on and near Pawleys Island
There are plenty of activities to make your vacation to Pawleys Island a fun and exciting adventure, both on and off the island itself. Our historic seaside getaway is famous for its laidback character — and often referred to by locals as "arrogantly shabby." On our historic island, a pristine beach awaits for relaxation and respite, but other outdoor opportunities are plentiful, as well. From fishing and crabbing for fun or for your dinner to biking on quiet streets and kayaking on the calm waters of the surrounding creek and marsh, the Pawleys life is all about spending time along our nature-kissed paradise.
And just a short drive to the mainland opens up even more opportunities for shopping, dining and more. After crossing over the North Causeway, also known as the Linwood Altman Causeway, or the South Causeway, visitors to Pawleys Island can enjoy more activities on the mainland. Enjoy shopping, dining, musical entertainment and more between times spent lounging in a hammock on the porch of your rental house.
Beach
To sunbathing, walking on the beach and taking a dip in the ocean sound good to you, Pawleys Island offers three miles of pristine coastline. The beaches are open to the public with several beach access points and parking is free.
For beach accessories, such as chairs, umbrellas, towels, water toys, clothing and more, there are several options for purchasing or renting everything you need.
For rentals, contact Cabana Boy Beach Rentals, Pawleys Island Beach Service or Seaside Chairs and Umbrellas.
To you'd rather purchase these items, here are some suggestions that are only a short drive to the mainland. Visit Pawleys Island Supplies at 10460 Ocean Highway, Pawleys Island, Eagles Beachwear at 13138 Ocean Highway, Pawleys Island.
If you didn't bring enough reading material for your beach days or would like to pick up some books about local history, wildlife, legends or even ghost stories, check out Litchfield Books at 11421 Ocean Highway, Pawleys Island, or My Sister's Books at 13057 Ocean Highway, Pawleys Island. If you'd like to visit the local public library, visit the Waccamaw Neck Branch Library in the Litchfield community of mainland Pawleys Island at 41 St. Paul's Place.
Shelling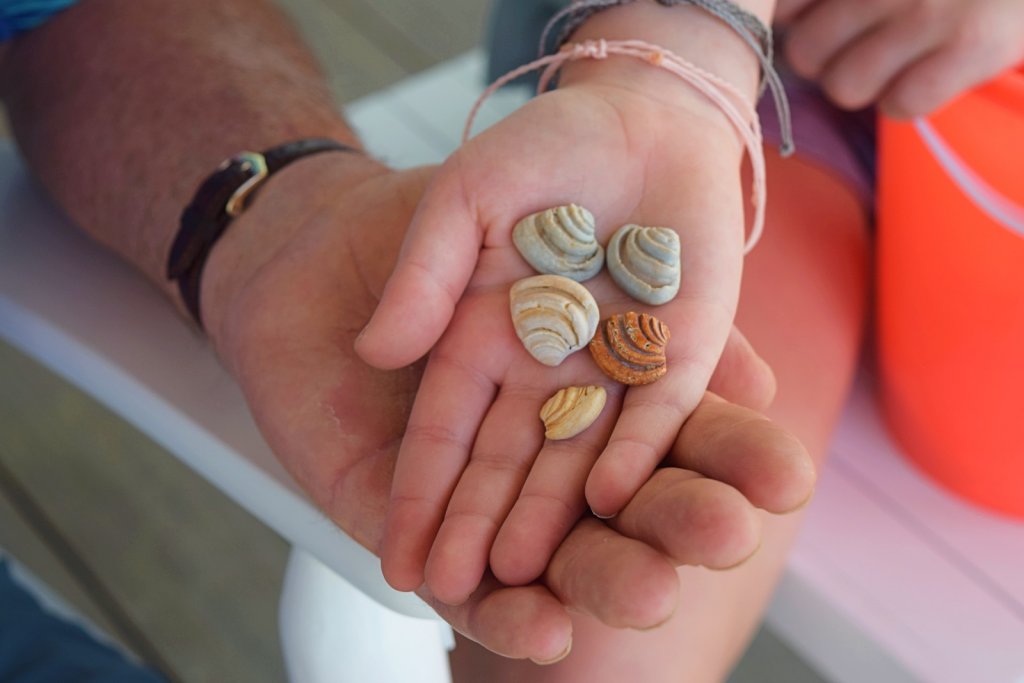 People who enjoy collecting seashells, driftwood and other items that wash up on the beach can purchase durable, decorative beach bags at any of the stores listed above.
You might even be lucky enough to find a Pawleys Island shell. Legend has it, finding one is good luck!
Surfing/Bodyboarding
Surfing and bodyboarding are also fun activities for people visiting the beach. Local options for purchasing surfboards and bodyboards, as well as other related items, include Surf the Earth Surf Shop at 47 De Gullah Way, Pawleys Island, which also offers surfing lessons, and Eagles Beachwear at 13138 Ocean Highway, Pawleys Island. Bodyboards can also be purchased at Pawleys Island Supplies at 10460 Ocean Highway, Pawleys Island.
The Creek: Fishing/Crabbing/Kayaking/More
Between Pawleys Island and the mainland, there is a scenic tideland creek that provides a beautiful setting for a variety of activities. Fishing, crabbing, wildlife viewing, kayaking, and paddleboarding in the creek are opportunities for family-friendly fun on Pawleys Island.
For people who want to fish and crab in the creek, stores on the mainland have fishing poles, nets, and all the equipment needed to catch flounder, blue crabs and more. Some recommended stores include: Palmetto ACE Hardware at 8317 Ocean Highway; Pawleys Island Outdoors at 9790 Ocean Highway, Pawleys Island; and Pawleys Island Supplies at 10460 Ocean Highway, Pawleys Island.
For people who enjoy viewing and photographing wildlife, including hundreds of bird species, find binoculars and other equipment needed at those same stores.
To further experience the creek, visitors can rent kayaks or paddleboards from Surf the Earth Surf Shop at 47 De Gullah Way, Pawleys Island, and Black River Outdoors, both of which also offer kayak and paddleboard lessons/tours. Also Pawleys Kayaks and Pawleys Island Beach Service both offer rentals.
Biking
Another fun activity on and off the island is bicycling. Ride along the quiet streets of the island, passing historic locations such as the island's only two bed-and-breakfasts, the Sea View Inn and the Pelican Inn, or the Pawleys Island Chapel overlooking the creek. Another option is to venture onto the paved bike path along Ocean Highway (also known as U.S. Highway 17, which follows a winding course north from Pawleys Island all the way to Murrells Inlet.
Bikes are available for rent at Cyclopedia, located at 14427 Ocean Highway, Unit H, in the Litchfield community of Pawleys Island or Pawleys Island Beach Service.
Shopping
There are many options for shopping on the Pawleys Island mainland, including dozens of specialty shops located in our community's iconic shopping hamlets which feature a variety of boutiques, souvenir stores and eateries in unique settings along walkways or underneath ancient oaks.
Check out The Hammock Shops Village at 10880 Ocean Highway, Pawleys Island; the Island Shops at 10659 Ocean Highway, Pawleys Island; and the Village Shops at 10744 Ocean Highway, Pawleys Island. In addition, there are other shopping centers with art galleries, clothing stores and more throughout the community. Additionally, other major shopping centers include well-known stores such as TJ Maxx, Tuesday Morning and Chico's. Grocery stores include The Fresh Market, Food Lion, Lowes Foods and Publix.
Dining/Live Music
Many of the most popular restaurants on the Pawleys Island mainland also offer live music at night and/or on weekends. These restaurants include Pawleys Island Tavern, known locally as The PIT; Franks/Franks Outback, Local Eat, Drink, Celebrate, Island Bar & Grill, and South End Bistro. For more about all the restaurants in Pawleys Island here.
Historic Churches
There are also several historic churches to visit while exploring the Pawleys Island mainland. These include All Saints Church, Precious Blood of Christ Catholic Church, Holy Cross Faith Memorial Episcopal Church, Pawleys Island Presbyterian Church, and St. Paul Waccamaw United Methodist Church. Of course, not to be missed is the Pawleys Island Chapel, located on our historic island. Find out more about its history here.